Wilson Borough firefighters' T-shirt sales aid in woman's breast cancer battle!
Click here to read the full story!

Wilson Borough firefighters Justin Purdy, Don Hockman, Alex Keenhold and Adam Emsweller flank Elizabeth Marich, center, on Saturday, November 10, 218. The firefighters union sold Pink and Proud T-shirts in October and provided proceeds to Marich to help in her battle against breast cancer.
________________________________________________________
Boscola Announces Lehigh Valley Municipalities to Receive Nearly $1.5 million in State Recycling Development and Implementation Grants.
Wilson Borough receives $110,614. Click the following link for full article. Recycling Grant
_______________________________________________________________________
WILSON BOROUGH FIRE DEPARTMENT RECEIVES $5,000 GEORGIAPACIFIC
BUCKET BRIGADE GRANT
2018 Grants Total More Than $214,000 For Lifesaving Equipment
Easton, PA, Nov. 9, 2018 – The Wilson Borough Fire Department is one of 43 fire departments awarded
Georgia‐Pacific Bucket Brigade grants this year. The department will receive $5,000 to help fund
equipment needs, specifically fire helmets.
"Our local fire departments are a vital part of our community, so we are very pleased to help them stay
well‐equipped," said Zach Robertson, plant manager at Georgia‐Pacific's Lehigh Valley Dixie facility.
"These grants express our thanks for their commitment to the people they serve."
The Bucket Brigade program awarded $214,000 in grants to departments this year for equipment critical to firefighters' safety. Since the program began in 2006, Georgia‐Pacific has given more than $2.4 million in cash and educational materials to hundreds of fire departments that serve the company's facility communities across the country.
The fire department says the grant will go toward the replacement of aging fire helmets that are nearing
their expiration.
"More of the helmets we're using are either beyond their useful life or within two years of expiration,"
said Fire Chief Joseph Sipel. "New helmets will protect our firefighters from heat and impact during all of their activities."
Grants are based on need and are funded by the Georgia‐Pacific Foundation and local Georgia‐Pacific
facilities. Funds are typically used to purchase new protective clothing and replace items such as
damaged safety gear and aging equipment.
Through the program, Georgia‐Pacific also gives all grant applicants free memberships to The National
Volunteer Fire Council (NVFC), which provides access to tools, resources, programs and advocacy for
first‐responders across the nation.
The fire departments receiving grants this year span 20 states where Georgia‐Pacific has facilities:
Alabama, Arkansas, Florida, Georgia, Indiana, Kentucky, Louisiana, Massachusetts, Michigan, Mississippi, New Jersey, North Carolina, Ohio, Oregon, Pennsylvania, Tennessee, Texas, Washington, Wisconsin, and Wyoming.
Visit the Georgia‐Pacific Bucket Brigade website for more information about the program.
About Georgia‐Pacific
Based in Atlanta, Georgia‐Pacific and its subsidiaries are among the world's leading manufacturers and
marketers of bath tissue, paper towels and napkins, tableware, paper‐based packaging, office papers,
cellulose, specialty fibers, nonwoven fabrics, building products and related chemicals. Our familiar
consumer brands include Quilted Northern®, Angel Soft®, Brawny®, Dixie®, enMotion®, Sparkle®, MardiGras®, Vanity Fair®, and STAINMASTER™ household cleaning products. Georgia‐Pacific has long been a leading supplier of building products to lumber and building materials dealers and large do‐it‐yourself warehouse retailers. Its GP Harmon Recycling subsidiary is among the world's largest recyclers of paper, metal and plastics. The company operates approximately 200 facilities and employs approximately 35,000 people directly, and creates nearly 92,000 jobs indirectly. For more information, visit: gp.com.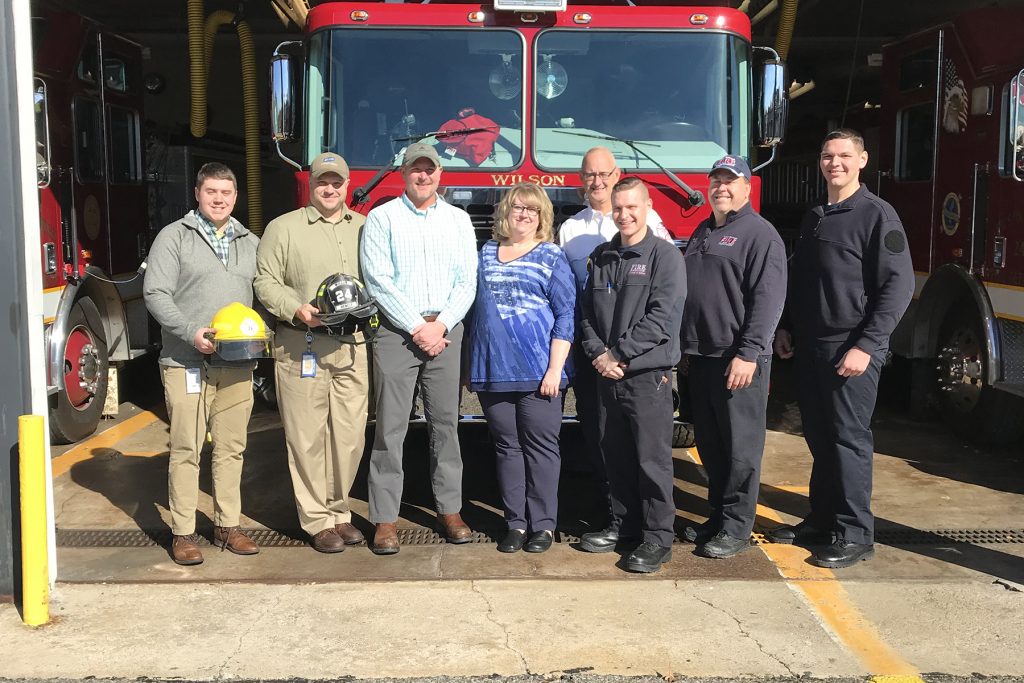 Photo caption: The Wilson Borough Fire Department will receive a $5,000 grant from Georgia‐Pacific fornew equipment. From left: Georgia‐Pacific Lehigh Valley Dixie's Matt Peat, Dave Marouchoc, and Zach Robertson, with Wilson Borough Manager Jill Garcia and Wilson Borough Fire Department's Joseph Sipel, Alex Keenhold, Mark Cooke and Derrick Flavelle.