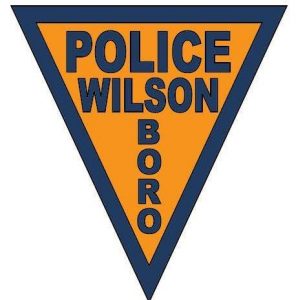 2035 Butler St
Easton, PA 18042
Phone: 610-258-8746
Fax: 610.258.4233
Office Hours Monday – Friday 8:30 am to 4:30 pm
Police Chief
Christian Meehan
Police Secretary
Missy Corrado
Wilson Borough Offices will be closed until further notice due to the Covid-19 outbreak. We are not accepting walk in requests for police reports. Please call 610.258.8746 Monday-Friday 830-430 pm or email us at mcorrado@wilsonpd.org to make arrangements to pick up a police report. Please note the incident number in the email or have it ready when you call.
Parking tickets can be paid by placing the exact change or a check inside the parking ticket envelope. The envelope can be placed in the ticket box which is located by the main entrance to the police department (2035 Butler St.). If you have an issue or questions about a parking ticket or citation, you can contact us Monday-Friday 830-430 pm at 610.258.8746 or mcorrado@wilsonpd.org.
If you have an emergency, please call 911. If you need to file a police report, please call 610.759.2200 and a police officer will be dispatched to your location. If need to make a report concerning a minor incident, please let the dispatcher know you would like an officer to call you.
We apologize for any inconvenience this may cause, but the health and well-being of Wilson Borough residents and employees is our number one concern.
How to Contact Us:
All calls for service are dispatched through the Northampton County 911 Center.
Emergency: Dial 911
911 is the number you should dial in an emergency or when there is an immediate threat to life or property.
Non-Emergency: For all non-emergency calls, please call the Northampton County Communications Center 24 hours, 7 days per week, at 610-759-2200. This number should be used when you require the assistance of the police but it is not an emergency.
Texting 911: Northampton County can receive and reply to text messages to 911. Please remember to "Call when you can, text when you can't". Texting 911 may be used if you are unable to make a voice call.
If you have questions about a report or need to contact an officer about a previously filed report, please call 610.258.8746.
Copies of reports can be obtained at the Wilson Borough Police Department Monday-Friday 8:30am-4:30pm. There is a $5.00 charge for reports. Only cash, checks, and money orders are accepted at this time.
Please follow us on Nixle. Nixle is a free service that keeps you up-to-date with relevant information from your local public safety departments & schools: http://www.nixle.com
Please follow us on Facebook: https://www.facebook.com/pg/Wilson-Borough-Police-Department-254961874524739/about/?ref=page_internal